1932 photo courtesy of Everett Public LibraryWelcome to the Walking Tour of Mukilteo Lighthouse Park and the historic Mukilteo Light Station. The text and pictures shown here can be supplemented by the audio narration as indicated at the top of this screen.
In the minds of many there is often a sharp divide between the activities of the earliest Indian inhabitants in this area and those of the American immigrants who began arriving in the 19th century. This tour, however, will emphasize the continuities in human behavior over time and the continuing Native American presence here. If you are taking this tour during the summer, you will almost certainly see many people enjoying the warmth of the sunshine, the aroma of sizzling barbeque, the music of the children's laughter, and the merriment of convivial friends. Four hundred years ago you would have seen the same thing here, only the people would all be Native Americans.
Continuity and change is also illustrated by the role of water in this area. Its importance to Native Americans was significant, as a means of communication, transportation, and livelihood. This shoreline was popular in the past because it was easily accessible by canoe, featured two fresh-water streams, and possessed abundant sources of sea food. These were some of the main reasons why this area was chosen for the negotiation of the Point Elliott Treaty in 1855, a major treaty between the Native Americans and the federal government.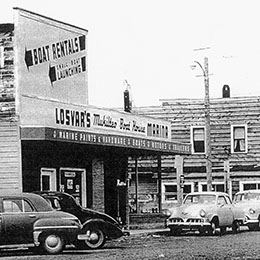 Losvar Boat House
The town of Mukilteo itself began here as a trading post because its founders had studied the patterns of water transportation on Puget Sound. Much of the early development of Mukilteo was based on logging, sawmilling, shipbuilding, and trade, all of which were deeply dependent on transportation by water. Even today, Mukilteo is known for its historic lighthouse and its ferry to Whidbey Island, one of the most travelled in Puget Sound.
The story of the Losvar family is illustrative. Paul Losvar, a native of Norway, brought his family to Mukilteo in 1905 and immediately recognized the possibility of building a boat business here. For sixty years and three generations, the Losvars built, rented, and stored boats from their Mukilteo Boat House. They designed and sold several types of boats, but the "Mukilteo Boat," their signature product, was widely known throughout the region. Today, the Losvar Condominiums have replaced the Losvar family home and business, but the importance of water for resources and recreation remains unabated.